Event & Dance Floor Installation Instructions
Why is SnapLock the #1 Portable Flooring Solution?
One of many reasons is because it's incredibly easy to install. With SnapLock you can completely lay your stylish portable event floor in a matter of minutes. Its Step-N-Snap interlocking system is simple to use. Anyone can do it, no tools, materials or prior experience is required. Below you can view SnapLock's installation video or follow our quick and easy guide for floor installation, tips and tricks.


( We recommend plywood to used on grass and any other uneven surface before laying out your Snaplock flooring )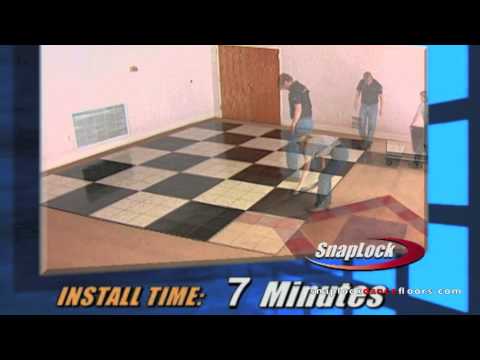 Step 1
Remove all obstructions from the area of installation. Cleaning all exposed dirt, dust or liquids from the floor surface. Then lay the first panel in the corner of the room. Point the loops in the direction that you want to add further panels.
Step 2
Each panel has female loops on two sides and male pegs on the other two sides.
Step 3
When placing each adjoining panel, line up the male pegs over the female loops.
Step 4
Lock each panel together by firmly but gently stepping on the connection. You'll notice that the panels easily snap together! Continue a row at a time ensuring that you keep the loops of each panel pointed in the same direction as the first one.
Correct Installation
REMEMBER: At all times every SnapLock panel must have the loops pointing in the same direction. Follow the direction of the first panel you lay to ensure that your floor is joined correctly.
Incorrect Installation
WARNING: A panel may still connect even though it is not placed correctly. An incorrectly placed panel however will not allow you to complete the entire floor installation properly. Ensure that all panels are joined correctly with the loops heading in the same direction.
Installation Procedure
Place the first panel in a corner with the loops pointing in the opposite direction to that corner. Continue adding panels across the floor row by row ensuring that the female loops go in the same direction to the first panel.
Australia's biggest supplier of floor tiles
for garages, events, dance floors and commercial.
Australia's biggest supplier of floor tiles for garages, events, dance floors and commercial.